Hybrid Workstation for Next-gen Music Creation
Native Instruments' Maschine Studio is the next evolution of a breakthrough hybrid music-production platform that makes creating music fast, intuitive, and totally natural. Maschine Studio provides you with the all-hands control you can only get from hardware plus the phenomenal flexibility of a software environment. As the center of your rig, Maschine Studio lends its amazing nonlinear music- making workflow to your favorite virtual instruments, or you can add it to your favorite DAW or hardware rig as you like. Whether you're into electronic music production or live performance, you're going to love working with Native Instruments' Maschine Studio.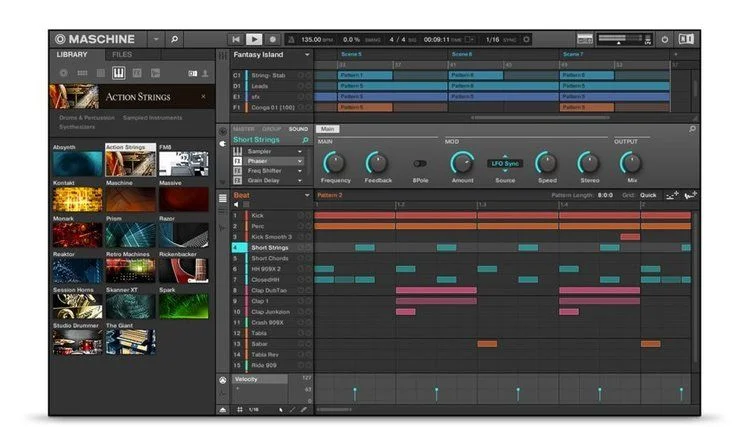 The powerful software you need for modern music production
Maschine Studio kicks off Native Instruments' Maschine 2 music-creation software. Sequence virtual instruments, create drum grooves, record samples, slice up loops, and take advantage of all of your favorite plug-in processors and effects all within an incredibly intuitive environment. In addition to a slick new mixer, highlights of Maschine 2 include unlimited groups and insert effects plus sidechaining. A tag-based visual browser and total integration with Native Instruments Komplete are super handy, and as a bonus, Maschine Studio even comes with four amazing Komplete products: Massive, Prism, Scarbee Mark I, and Solid Bus Comp.
Awesome hardware gives you complete 1-to-1 hands-on control
The really cool thing about Maschine Studio is the way the hardware controller integrates with the software environment. It lets you access your whole library of instrument sounds and effects and tweak them with astonishing efficiency. Whether you're step sequencing effects or creating totally original sounds, all of the controls you need are right there at your fingertips. A built-in stand makes this hardware controller ideal for any environment, and thanks to its built-in MIDI interface, Maschine Studio is the natural centerpiece of your synth rig.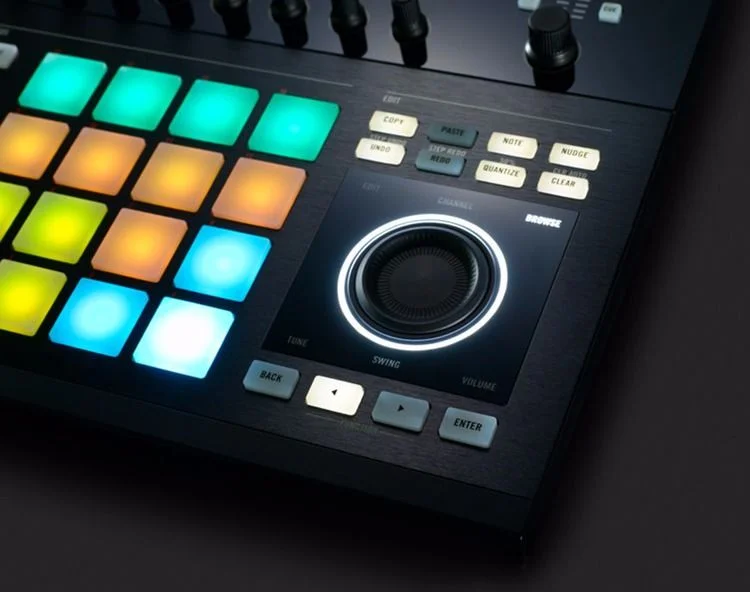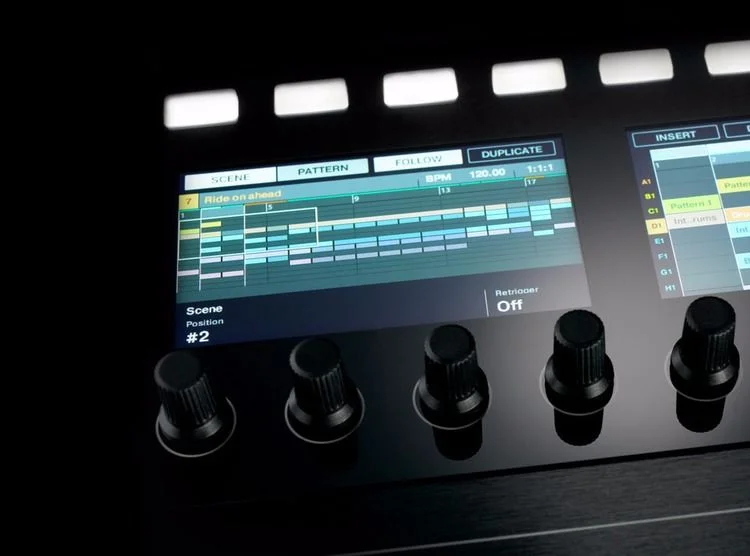 Massive music-production power that fits your rig
Native Instruments' Maschine Studio provides you with a powerful toolset you can integrate into your system any way you like. As a freestanding music-production environment, Maschine Studio can act as a host for your VST and AU plug-ins, allowing you to take full advantage of your virtual instrument library and Maschine 2's amazing sequencer. But, you can also run Maschine Studio as a slave to your DAW, by inserting it as you would any other virtual instrument. And with full support for MIDI clock/sync, it's easy to integrate your Maschine Studio setup with your live gear as well.
Includes Komplete Select software bundle
Maschine controllers include Komplete Select – a premium instrument and effect package worth $1,000 when purchased separately. Includes Massive, Prism, Monark, Retro Machines, The Gentleman, Vintage Organs, Scarbee Mark I, West Africa, Drumlab, and Solid Bus Comp. Komplete Select is provided as a download after hardware registration.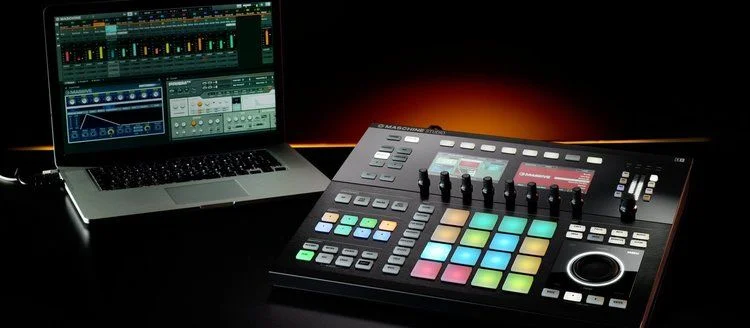 Ableton Link integration for reliable synchronization
As of Maschine 2.5.5, you can experience the collaborative freedom of Ableton Link. Lock multiple systems to a common timeline. Change tempo globally across systems. Enjoy spontaneous jamming, collaborative creation, and synchronized performances. This is a free update for Maschine 2.x owners.
Native Instruments Maschine Studio Hybrid Music-production System Features:
An amazing hybrid music-production system that couples Maschine 2 software with a custom hardware controller
Runs as a freestanding music system (that hosts VST and AU plug-ins) or as a plug-in in your favorite DAW
Sequence virtual instruments, create drum grooves, record samples, slice up loops, and more all from one user-friendly environment
Tag-based visual browser and total integration with Native Instruments Komplete make finding the right sound easy
Access your whole library of instrument sounds and effects (and tweak them) from the dedicated hardware controller
Browse presets, select sounds, sample new sounds, and more, without looking at your computer
8 mode buttons and 16 ultra-playable multicolor pads offer up direct access to all major functions and play virtual instruments
Stereo LED metering and volume control let you monitor and adjust your master output, input, group, send, and cue levels
Classic groovebox features including 16 velocity levels, swing, pad link, note repeat, step sequencer, and vintage MPC 60/SP 1200 sampling emulation
8 multicolor buttons provide vital feedback and let you jump between an unlimited number of groups (each with unlimited inserts)
Complete multi-mode transport section with loop control and shift function lets you keep your hand off the mouse
Multipurpose jog wheel provides precision editing, scrubbing, browsing, and other useful functions
Built-in stand lets you change the angle of your controller
Includes 24 pro-quality effects including EQ, filter, delay, reverb, etc, plus Native Instruments' Massive, Prism, Scarbee Mark I, and Solid Bus Comp
Runs as an AAX, VST, or AU plug-in; hosts VST and AU plug-ins
Ableton Link integration offers reliable synchronization between music-production software and mobile apps